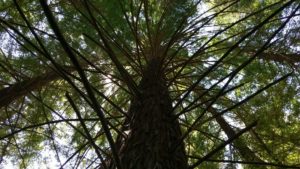 We invite you to immerse yourself in song, community, and wilderness for a weekend with Nigun Collective as we gather for our 4th annual Shabbaton, August 16-18, 2019.
There will be singing, hiking, game playing, Torah study, community meals, a campfire, and more! We invite you to come for one or both nights. Due to parking restrictions and planning purposes, advanced registration is required before Tuesday, August 13.
To cover the costs of this camping trip (site fees, firewood, ritual items, infrastructure, etc.) we are charging a small sliding scale fee ($15-$40). Please pay whatever feels right for you. If you want to come and can't afford the fee, please contact us. No one will be turned away for lack of funds.
Registration has closed. If you still wish come come, please email eliwirtschafter at gmail dot com to see if there's still space. Thanks!
Schedule
Draft Shabbaton Schedule (subject to change)
This schedule is a guide for our weekend together, and we also anticipate being in the shabbos "flow."
We encourage everyone to stay for the full weekend! But we also invite you to come by as much as you're able. You can enter the camp site until 10 pm any day. You may leave at any time.
Carpooling
Because Anthony Chabot Regional Park will only issue us 20 parking passes for the weekend, carpooling is highly encouraged. If you want to find a ride or offer a spot in your car, sign up on the carpool page below.
Event Logistics
Food: Participants should bring all their own food. Friday night dinner is a vegetarian potluck. Other meals are on your own – you are welcome to share food at other meals, but it's not required.
We've allotted time for meals in the schedule, but people can eat whenever they'd like.
About the site: The campsite is right next to the parking lot, and equipped with pit toilet outhouses, a water spigot, picnic benches, a grill, and a fire pit.
Directions: The Shabbaton will take place at Lost Ridge Campground in Anthony Chabot Regional Park. Directions
More questions? Email us at niguncollectivebayarea@gmail.com.
Nigun Collective is supported by Moishe House Oakland. They curate amazing programming every month. Check em out!